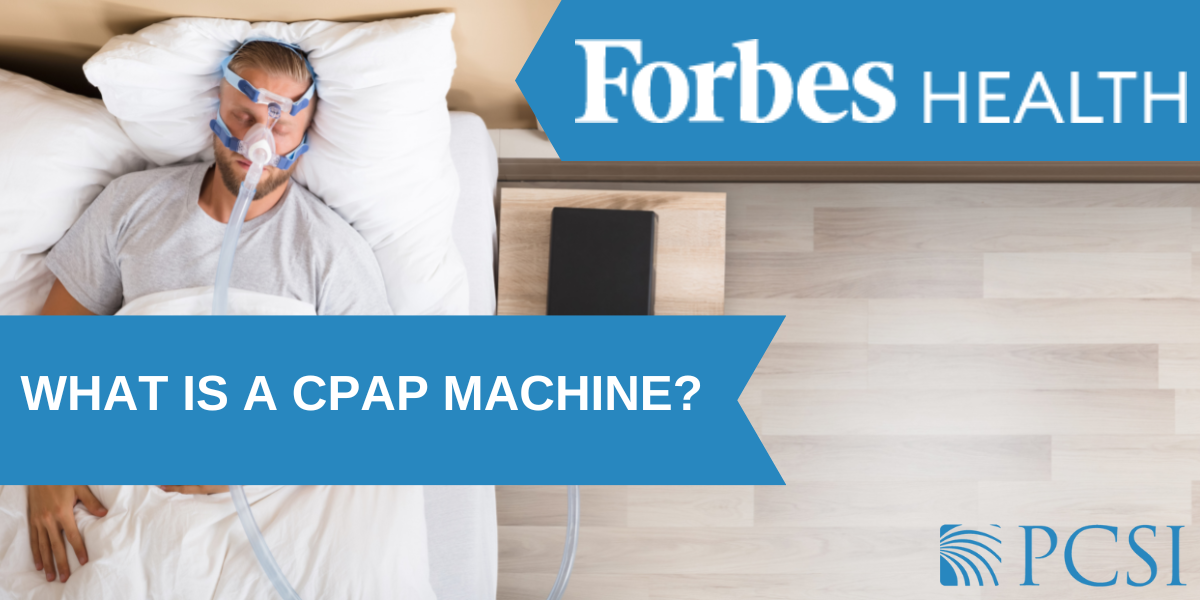 17 Oct

What Is A CPAP Machine?

Continuous positive airway pressure (CPAP) machine therapy is the preferred treatment for obstructive sleep apnea, an extremely common condition that can cause daytime fatigue as well as snoring and choking while sleeping, according to the National Heart, Lung and Blood Institute. CPAP machines function by using air pressure to maintain open airways during sleep to improve breathing and, when used correctly, can be very effective.

Learn more about CPAP machines, how they can help patients with sleep apnea and common barriers to CPAP machine use below.
What Is a CPAP Machine?
A CPAP machine is most commonly used as a treatment for sleep apnea, a sleep disorder where breathing stops and restarts many times during sleep. It delivers a constant and steady stream of air pressure that prevents airway closure while you're sleeping to help you breathe.
The machine connects to a patient through a hose and a mask, explains Thomas M. Kilkenny, D.O., director of the Institute of Sleep Medicine at Staten Island University Hospital in New York. Once the mask is fitted on the face, the CPAP machine blows air into the nose and/or mouth through the mask.
CPAP Machine Design
CPAP machines are typically designed with the following main components, according to the National Heart, Lung and Blood Institute:
A mask or similar device that fits over your nose or face
Straps to position the mask
A tube that connects the mask to the motor
A motor or air pump to pressurize the air
"Some machines also have a water tank to humidify the air and an electronic component to control the device," says Luis Javier Peña-Hernández, M.D., a lung and sleep health specialist at PCSI, the largest integrated pulmonary and chest speciality group in Palm Beach County, Florida. "In some instances, [the CPAP machine] transmits data to a wireless communication system in order to generate reports of effectiveness."
There are three different kinds of masks that come with CPAP machines, and one isn't necessarily better than the other. "The most important thing for patients to look for is a comfortable fit that fits securely to their face," says Thomas Yadegar, M.D., a pulmonologist and sleep specialist at Providence Cedars-Sinai Tarzana Medical Center in Los Angeles.
Different CPAP mask options include:
Full nasal mask: This mask covers the nose completely, is held in place with velcro straps, and pressurizes the nose, according to Dr. Kilkenny, adding that when wearing this type of mask, your mouth has to stay closed throughout the night. "If the mouth does open at night, all the pressure is lost, rendering the device less effective.. When this happens, nasal congestion, stuffiness and a dry mouth can occur." Regarding comfort, full nasal masks may be bulky, and skin irritation can sometimes occur, he adds.
Nasal pillow mask: A nasal pillow mask fits over the nose and only covers the nostrils rather than the whole nose. Since it's less bulky, it tends to be more comfortable, according to Dr. Kilkenny, who points out that the mouth needs to stay closed with this maske as well to maintain an air seal.
Full face mask: This type of mask covers the nose and mouth at the same time, and is usually used for patients who have air leaks out of their mouth while using one of the other CPAP masks. "In general, this is more restrictive and bulkier than the other styles of masks," says Dr. Kilkenny.
If the patient is having trouble keeping their mouth closed with the CPAP mask on, they can either try a chin strap to keep the mouth from passively opening and re-evaluate or switch to a full-face mask that will cover both the nose and mouth, says Dr. Kilkenny.
What Conditions Do CPAP Machines Treat?
CPAP machines treat sleep apnea and, according to Dr. Yadegar, are not meant to help with insomnia, narcolepsy or other sleep disorders.
Obstructive Sleep Apnea
Obstructive sleep apnea is the most common form of sleep apnea and is described as an abnormal collapse of the airway during sleep. "During the different stages of sleep, the muscles in the back of the throat lose their tone, causing them to collapse within the back of the throat, which limits airflow and subsequently decreases the oxygen levels," says Dr. Yadegar. In this instance patients typically stop and restart breathing repeatedly, which leads to choking. Sleep apnea can also cause headaches in the morning and/or fatigue and difficulty completing activities during the day, he says.
"Sleep apnea has also been associated with poor blood pressure control, resulting in hypertension (high blood pressure), higher levels of blood glucose, cardiac arrhythmias and overall poor quality of life," says Dr. Peña-Hernández.
CPAP machines can be essential for people with sleep apnea, as the machine helps to pressurize the airway and decrease the collapse in order to stop the choking. Each night at bedtime, the patient places the mask on their face and uses the CPAP machine throughout the night. This is usually a lifelong therapy, says Dr. Kilkenny.
Neonatal Respiratory Support
In some cases, CPAP machines can be used in neonatal intensive care units as an alternative to the use of invasive mechanical ventilation. According to Dr. Pena-Hernandez, it may be used as a therapeutic modality to treat neonatal respiratory distress syndrome. "However, its efficacy is still being evaluated in clinical trials," he adds.
Potential Benefits of Using a CPAP Machine
CPAP therapy is the most effective and widely used treatment for the management of obstructive sleep apnea, says Dr. Peña-Hernández. "It has proven to restore normal sleep architecture and optimize the progression of the sleep cycle to (rapid eye movement) REM sleep, or the restorative phase of sleep," he explains.The machines can be therapeutic for people with sleep apnea by helping them sleep more soundly.
CPAP machines can help relieve many of the symptoms of obstructive sleep apnea, such as daytime fatigue, says Dr. Yadegar. "In the long term, it can help delay the onset of cardiac problems, including pulmonary hypertension and heart failure. Poorly treated obstructive sleep apnea has been linked to other diseases, such as diabetes and dementia."
Potential Drawbacks of Using a CPAP Machine
For many patients, the major drawback of a CPAP machine is that it can be uncomfortable and can take some time to get used to, according to Dr. Kilkenny and Dr. Peña-Hernández. If it's very uncomfortable, Dr. Peña-Hernández recommends adjusting it or trying an alternative style and/or size. However, some patients never get used to CPAP machines, regardless of size or type of mask, and end up needing alternative treatments, he adds.
"Some patients have difficulty keeping the mask on and will pull it off unwittingly," says Dr. Kilkenny. This can prevent the machine from working properly. Some patients also find it difficult to adjust to forced air, especially in the beginning of CPAP therapy, says Dr. Peña-Hernándezadding that this can become more tolerable over time.
Research has shown that many patients stop using their CPAP machines due to discomfort. A 2008 study published in Canadian Respiratory Journal looked at 80 patients with obstructive sleep apnea who were prescribed CPAP machines as treatment and found that a significant portion of them didn't start or eventually abandoned the CPAP machine for reasons including discomfort, the noise of the machine, a feeling of "claustrophobia" while using it and a general dislike of the machine. 31% of patients never filled their prescriptions, citing general discomfort or displeasure regarding trying out the CPAP device in the first place. In fact, the study estimated only 54% of participants adhered to CPAP use long term[1].
According to a 2021 review in Frontiers in Psychology examining how to improve CPAP adherence in adults, studies have found that the effectiveness of the treatment is limited by poor acceptance and compliance. Studies have found that 8% to 15% of patients refuse CPAP treatment after the first night, and at least 50% of patients stop using it after one year, according to the review[2].
Using a CPAP machine can also lead to undesirable side effects. A 2020 review in Respirology considering these side effects found that they can include skin irritations and rashes, nasal congestion, claustrophobia, facial fractures, conjunctivitis and aerophagia (the excessive swallowing of air).
It's worth noting that CPAP machine use is typically a lifelong treatment. "Even though using CPAP sounds difficult to endure, treatment with the CPAP can dramatically improve a patient's lifestyle as well as significantly decrease the likelihood of worsening cardiovascular disease," says Dr. Kilkenny. "For these reasons, with a little persistence, most patients are able to slowly adapt to the CPAP mask and soon don't even realize they have it on."
If you have been prescribed a CPAP machine and find it uncomfortable, speak with your health care provider immediately, as there are ways to enhance comfort while using the machine, such as using a mask barrier, adjusting air flow or trying a different model or fit.
That said, some research has shown that the severity of obstructive sleep apnea plays a role in the long-term benefits of CPAP machine use. A 2016 study published in the Journal of Sleep Research looked at the effects of the treatment on quality of life and found that long-term improvement primarily occurred in patients who had severe and possibly moderate sleep apnea and used a CPAP machine.
How Do I Know If I Need a CPAP?
You may need a CPAP machine if you show signs of sleep apnea or have been diagnosed with the condition. "A sleep study is the best way to diagnose someone with obstructive sleep apnea requiring a CPAP machine," says Dr. Yadegar. "These tests can be conducted at home or in a specialized sleep lab."
Some symptoms of sleep apnea include increased sleepiness during the day, interrupted sleep, loud snoring, mental fog or fatigue, morning headaches or a dry mouth in the morning, says Dr. Peña-Hernández.
Both Dr. Yadegar and Dr. Peña-Hernández note that CPAP machines can be prescribed by pulmonologists, sleep doctors, ENT (ear, nose and throat) doctors, neurologists, internal medicine specialists or even primary care doctors.
How to Make Sure Your CPAP Fits
The fit of your CPAP mask is extremely important in terms of how effective the treatment will be, according to Dr. Yadegar. "CPAP machine masks are fitted by the durable medical equipment (DME) supplier as part of CPAP initiation and maintenance," he adds.
If you feel like the mask is extremely uncomfortable and find that you're unintentionally removing it throughout the night, this may be a sign that it doesn't fit correctly, says Dr. Peña-Hernández. "The patient will have periodic visits to the doctor's office to go over objective data reported by the CPAP machine to ensure that the frequency of sleep apnea episodes is properly corrected by the device and the adherence to the therapy and number of hours used are adequate," he says. If everything looks correct, it likely fits well.
Are CPAP Machines Covered by Insurance?
"When prescribed as a treatment for diagnosed obstructive sleep apnea, CPAP machines are covered by most insurance plans," says Dr. Yadegar. Proper adherence and consistent use by the patient are required by most insurance carriers to continue to cover the cost of the therapy, notes Dr. Peña-Hernández.
CPAP machines may also be covered by Medicare. If you've been diagnosed with obstructive sleep apnea, Medicare may cover a three-month trial of CPAP therapy. After the trial, Medicare may continue to cover the therapy if you meet with your doctor in person, and they document in your medical record that you meet certain conditions and the therapy is effective. If you already had a CPAP machine before enrolling in Medicare, and you meet certain requirements, Medicare may continue covering the costs. Medicaid generally follows the same guidelines.
CPAP machines are used when patients are sleeping and can be an effective way to treat obstructive sleep apnea. Because of user discomfort and potential negative side effects, however, some patients decide not to continue with the therapy and seek alternate treatments.