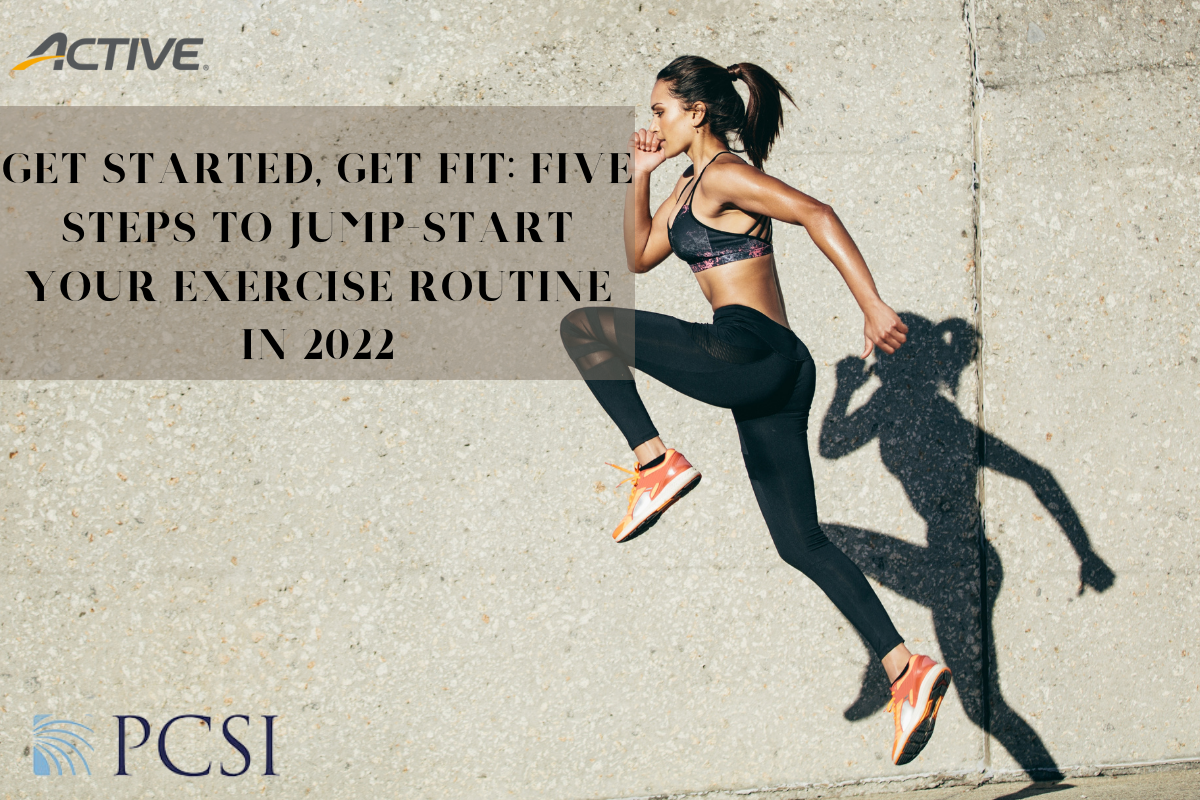 23 Jan

Get Started, Get Fit: Five Steps to Jump-Start Your Exercise Routine in 2022

When the holidays come to a close but our pants don't, many of us turn our attention to exercise by way of New Year's resolutions. "Working on my fitness" is a perennial top contender; in fact, it was the reigning resolution champion of the world in 2021 and is trending toward the top spot again.

However, according to a study in the Journal of Clinical Psychology, less than half (46 percent) of fitness resolutioners will successfully maintain their plan of action.

Don't panic. If you need a full charge or just a little boost, our fitness experts are here with a few easy steps to help you jump-start your fitness in 2022.
Step 1: Choose Your Own Fitness Adventure
The heavy breathing and sore muscles are not the only overwhelming factors of exercise. Just figuring out what kind of workouts that you may enjoy can be hard, but if you want long-term success, it is of the utmost importance to actually like the type of exercise that you are doing.
Also, if you've taken some time away from your fitness routine, you may find that you no longer enjoy the same type of activities that you once did. And, that is A-OK. If you loathe every step of running or if the thought of walking into a gym strikes fear into your heart, it does not mean that you're destined for a sedentary lifestyle. It's just that you simply haven't found the right vibe yet.
Here are some questions to help you figure out the best path:
Will I thrive in a group setting, or am I a lone wolf?
Do I prefer to be outdoors, or is a gym setting right for me?
How much time does my schedule realistically allow for exercise?
What kind of sports/activities did I enjoy as a kid?
If I opt for a gym, how long is the commute?
Use your answers to shape what you do next. If you like to be around other people, research group exercise options near you. If it is hiking that you crave, check out local trails. Set yourself up for success by choosing something you will want to do.
Step 2: Create Accountability
Once you have decided on your fitness path of least resistance, it's time to become accountable. Like fitness, accountability isn't one-size-fits-all. If announcing your plan to train for your first 5K on Facebook or TikTok is a way to get you to lace up those shiny new running shoes, by all means do it.
However, if just the thought of that made you sweat like you had already run those 3.1 miles, don't fret. We had accountability before we had social media. Here are other ways to hold yourself accountable to your goals:
Tell a close circle of friends and ask them if they are willing to check in on your progress
Grab a buddy to work out with you
Make an accountability chart and put in a place that you will see
Invest in a fitness tracker
Take progress pictures
Treat yourself to small rewards for meeting goals
Accountability, especially to another person, is a crucial aspect of sticking to a fitness plan. Studies have shown that being accountable to someone increases the likelihood of completing the task to a whopping 95 percent.
Step 3: Get Equipped
A solid sweat session can be obtained with nothing more than a few feet of space and a comfy pair of shoes. However, if your goals include gains or being able to spice up your at-home workout, it might be worth investing in the type of equipment that will help you crush your objective.
For Beginners: For those new to fitness, the amount of equipment, accessories, and apps can get a little overwhelming. Start small. Add a Gaiam yoga mat and commit to 10 minutes of stretching, or buy some wearable Bala Bangles to add some weighted resistance on your walks.
Cardio: If your space and budget allows, the trifecta of cardio equipment – treadmill, rowing machine and stationary bike – is some tried and true fitness equipment that will help you pump-up your heart rate and your 2022 workout routine.
Equipment for Small Spaces: One of the biggest challenges to working out at home is the amount of space that fitness equipment takes up. However, with space-saving equipment, such as adjustable dumbbells and kettlebells, at-home fitnessers are able to workout without having to build an addition on their house to store bulky equipment.
Smart Home Gym Equipment: The at-home fitness game has changed thanks to innovative and interactive workout options. Programs such as Future, Tonal and Peloton bring programming, certified trainers and accountability through apps and/or a piece(s) of equipment.
Step 4: Dial in Your Nutrition
When looking to jump-start your fitness, it is important to remember that working out is not the only component. It is also imperative to evaluate your nutrition. This can be especially true after the rest-sugar-and-booze-laden snack-o-rama that is the holiday season.
The quality of your nutrition directly affects the quality of your fitness. There are a few simple nutritional rules that you can immediately implement to help charge up your workouts.
Incorporate fresh fruits and vegetables
Choose whole, unprocessed foods
Drink plenty of water
Limit sugar and alcohol
Crystal Hochman, certified functional diagnostic nutrition practitioner, states, "Good nutrition does not have to be overwhelming. Start with making small changes to your overall diet and then concentrate on staying consistent. Continue to build on your good habits."
Step 5: Get Some Rest
We live in a society that often prides itself on productivity and burning the proverbial candle at both ends. By doing so, we often degrade the role that a good night's sleep plays in our overall well-being. A consistent seven- to nine-hour sleep schedule will help you jump into your fitness with no distracting yawns.
Before you hit the hay, check out these sleep-hacks to ensure that you're rested up for the following day's workouts.
Put down the phone, tablet and laptop two hours before bedtime
Don't consume caffeine or large meals later in the evening
Try to go bed and wake up at the same time each day
Take a relaxing bath or shower
Invest in quality mattress, pillow and bedding
"The key component to a good day actually starts the night before. The amount and the quality of sleep that we get affects every aspect of our daily lives, including our exercise routines," said lung health specialist and exercise physiology expert, Dr. Luis Javier Peña-Hernández, MD, FCCP.
The holiday season, with its twinkling lights and balsam-scented magic in the air, is a special time of year. However, the parties, travel and constant presence of sugar and booze can disturb our physical and mental well-being. Jump-starting your fitness routine is an excellent way to hit the reset button and make 2022 your fittest year yet.