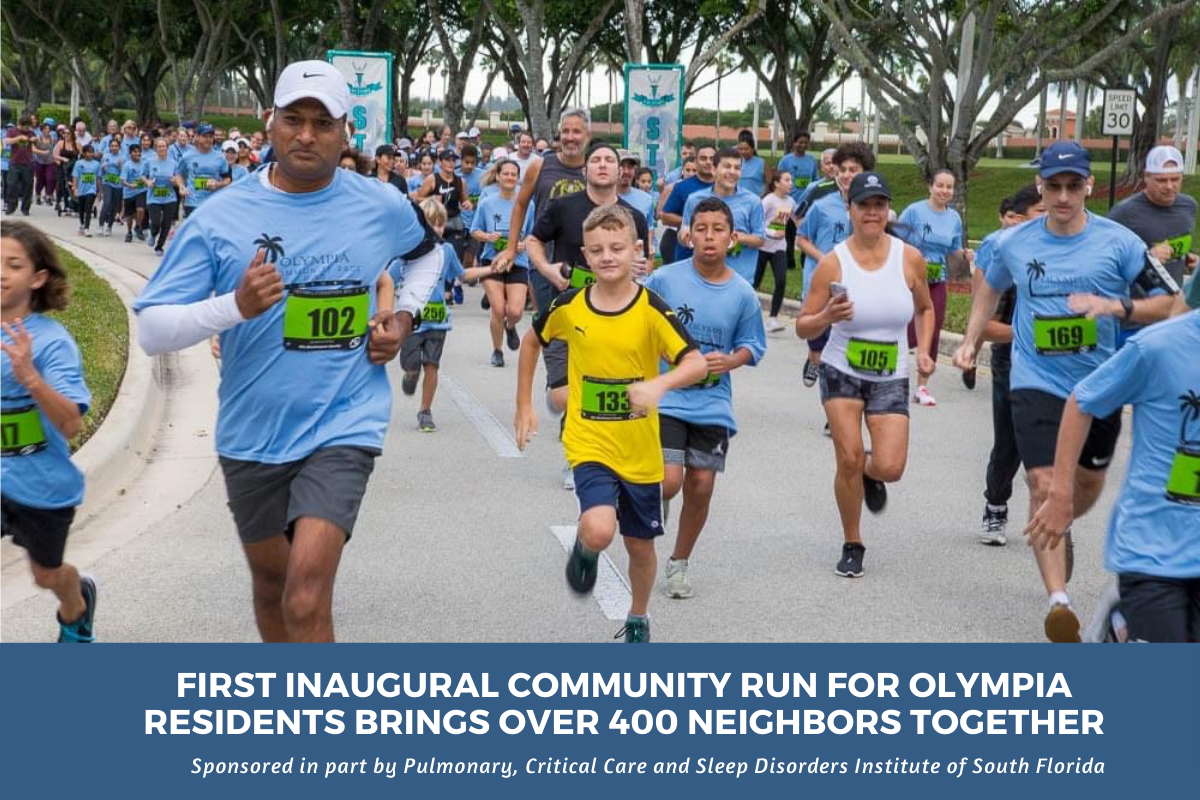 13 Dec

First Inaugural Community Run for Olympia Residents Brings Over 400 Neighbors Together

Sponsored in part by Pulmonary, Critical Care, and Sleep Disorders Institute of South Florida

On Sunday, December 5th, over 400 Olympia residents laced up their sneakers for the First Inaugural Community Run.

After nearly two years of pandemic isolation, AJ and Christina Bachmann were anxious to get back to doing the things they loved- running and spending time with friends.

The Bachmanns usually run a half marathon yearly before COVID. They got the idea to run with their community members and when they first presented the idea, over 100 people responded almost immediately. The HOA took notice and supported the Bachmann's to organize road closings, mass communications and incurred some of the costs.

They registered 467 residents before turning people away when the registration closed a few weeks ago.

Four different races circled Fatio Circle, a 2.7-mile loop, and ended at the Olympia Clubhouse. These races included: The Family Fun Run (1 mile), a 5K, a 10K, and a half marathon.

Thanks to sponsors like PCSI (Pulmonary, Critical Care & Sleep Disorders Institute of South Florida), organizers provided runners with medals, shirts, bags, and other goodies.  "Sponsors like PCSI have been instrumental in keeping the costs low for residents, which encourages entire families to register," said AJ Bachman.

The attention to detail and enthusiasm for this inaugural event made it a smashing success.

The event brought residents together and helped them network. "One of my favorite parts was watching people that had never met previously form friendships and running groups while preparing for the races," AJ Bachmann noted.

AJ and Christina have enjoyed watching their neighbors preparing for this event and plan to do this yearly.

Twenty four runners were awarded with first, second, and third place acknowledgements in their categories.

Photo by James Caprio photography

***

Pulmonary, Critical Care & Sleep Disorders Institute of South Florida (PCSI) is the largest integrated pulmonary and chest specialty group in Palm Beach County. The vision of PCSI is to provide innovative, exceptional care through the integration of state-of-the-art technologies and in coordination with other healthcare providers. With offices in Wellington and Atlantis, PCSI utilizes the best equipment, options, and technology available to provide world-class treatment.