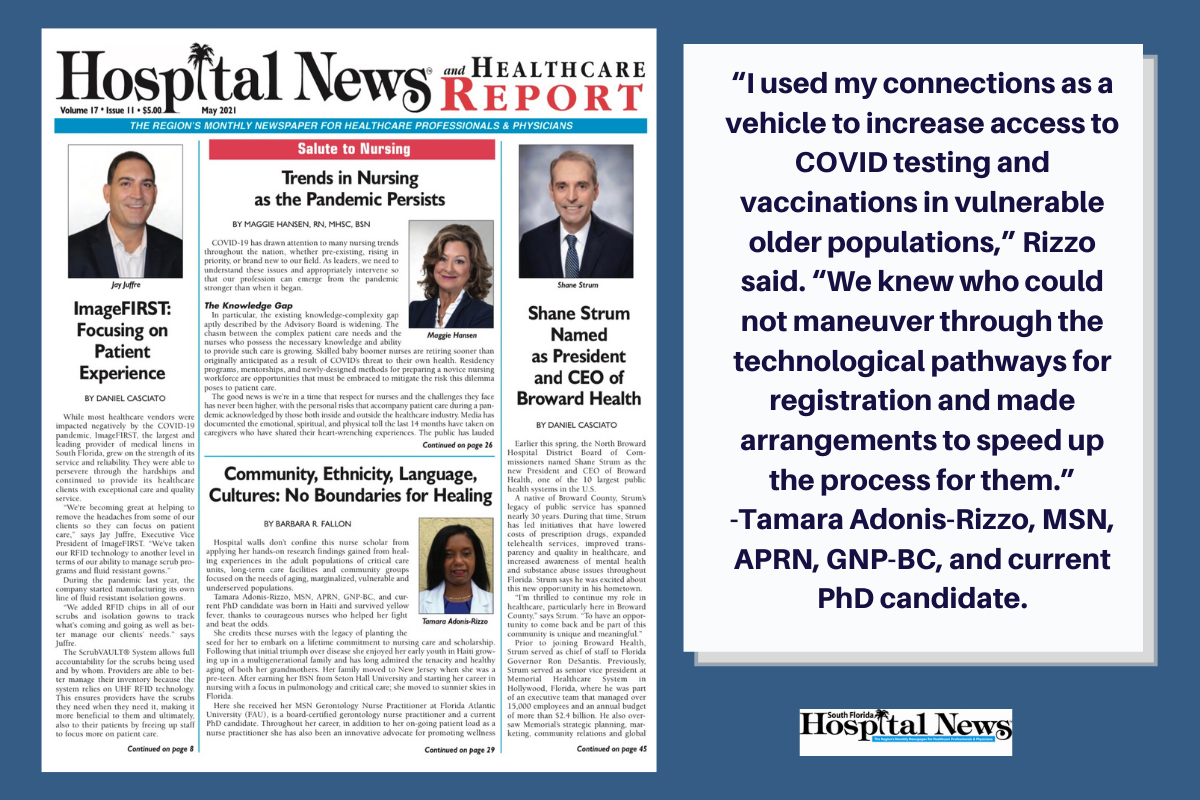 12 May

Community, Ethnicity, Language, Cultures: No Boundaries for Healing

South Florida Hospital News features Tamara Adonis-Rizzo, MSN, APRN, GNP-BC, and current PhD candidate in their article "Community, Ethnicity, Language, Cultures: No Boundaries for Healing"

Hospital walls don't confine this nurse scholar from applying her hands-on research findings gained from healing experiences in the adult populations of critical care units, long-term care facilities and community groups focused on the needs of aging, marginalized, vulnerable and underserved populations.

Tamara Adonis-Rizzo, MSN, APRN, GNP-BC, and current PhD candidate was born in Haiti and survived yellow fever, thanks to courageous nurses who helped her fight and beat the odds.

She credits these nurses with the legacy of planting the seed for her to embark on a lifetime commitment to nursing care and scholarship. Following that initial triumph over disease she enjoyed her early youth in Haiti growing up in a multigenerational family and has long admired the tenacity and healthy aging of both her grandmothers. Her family moved to New Jersey when she was a pre-teen. After earning her BSN from Seton Hall University and starting her career in nursing with a focus in pulmonology and critical care; she moved to sunnier skies in Florida.

Here she received her MSN Gerontology Nurse Practitioner at Florida Atlantic University (FAU), is a board-certified gerontology nurse practitioner and a current PhD candidate. Throughout her career, in addition to her ongoing patient load as a nurse practitioner she has also been an innovative advocate for promoting wellness and healthy living among older adults and minorities adding culturally-appropriate education and tools to the healing process.

For example, when the COVID-19 crisis hit, she was able to pair her work and masters research experiences on the annual flu vaccine with knowledgeable community and church affiliated connections to battle the pandemic obliteration of social interactions among seniors. This isolation was compounded by a technology gap, so she partnered with the FAU Memory and Wellness Center to support seniors by providing access to an Uber line so older members can stay connected via telephone during the pandemic. A support group was led by the wellness center Nurse Practitioners and group leader.

She relied on her working ties and outreach with the Black Nurse Practitioners of Palm Beach County Association, the Haitian-American Nurse Association, the Genesis Community Clinic Health Center and Caridad Center, along with the Palm Beach County Commission. Together plans were quickly implemented to coordinate registrations and administer vaccines for those unable to access technology to sign up for appointments.

"I used my connections as a vehicle to increase access to COVID testing and vaccinations in vulnerable older populations," Rizzo said. "We knew who could not maneuver through the technological pathways for registration and made arrangements to speed up the process for them."

She also worked to replace cancelled on-site fitness and healthy aging support groups with a university sponsored Memory Cafe, a regular weekly interaction of 25-30 participants over phone lines to connect and inspire Haitian older adults to maintain a focus on preventive health and maintenance. Additionally, an awareness of older adults who were more savvy with technology allowed her to create a train-the- trainer program to empower older adults to connect with each other and avoid or at least alert health professionals of some mental or physical health issues that loneliness can cause.

A member of the Haitian Catholic Church since 1995, she describes her involvement with the Haitian-American older adult population serving as the health ministry coordinator since 2006, providing a pathway to outreach, health programs and health mission trips to the Dominican Republic servicing Haitian refugees there.

According to Rizzo, aging does not necessarily need to be accented by debilitating illness and dementia. Older adults are resilient and can thrive with the benefits of a wholistic approach to health. One serious health event can lead to a domino effect in wellness, she explained.

"My model of nursing care is to apply my knowledge of the clinical, social, cultural, environmental and personal aspects of healing and prevention – not just providing responsive catch-up nursing care to treat disease symptoms," she explained.

A published author, advanced clinician, health advocate, educator, mentor and preceptor, Rizzo is also proud of being a mom of three thriving young adult sons. She lives and breathes her mission to lead and support efforts to improve the quality of life in aging minority populations.

To connect with Tamara Adonis-Rizzo, email tamaraadonisrizzo@gmail.com.