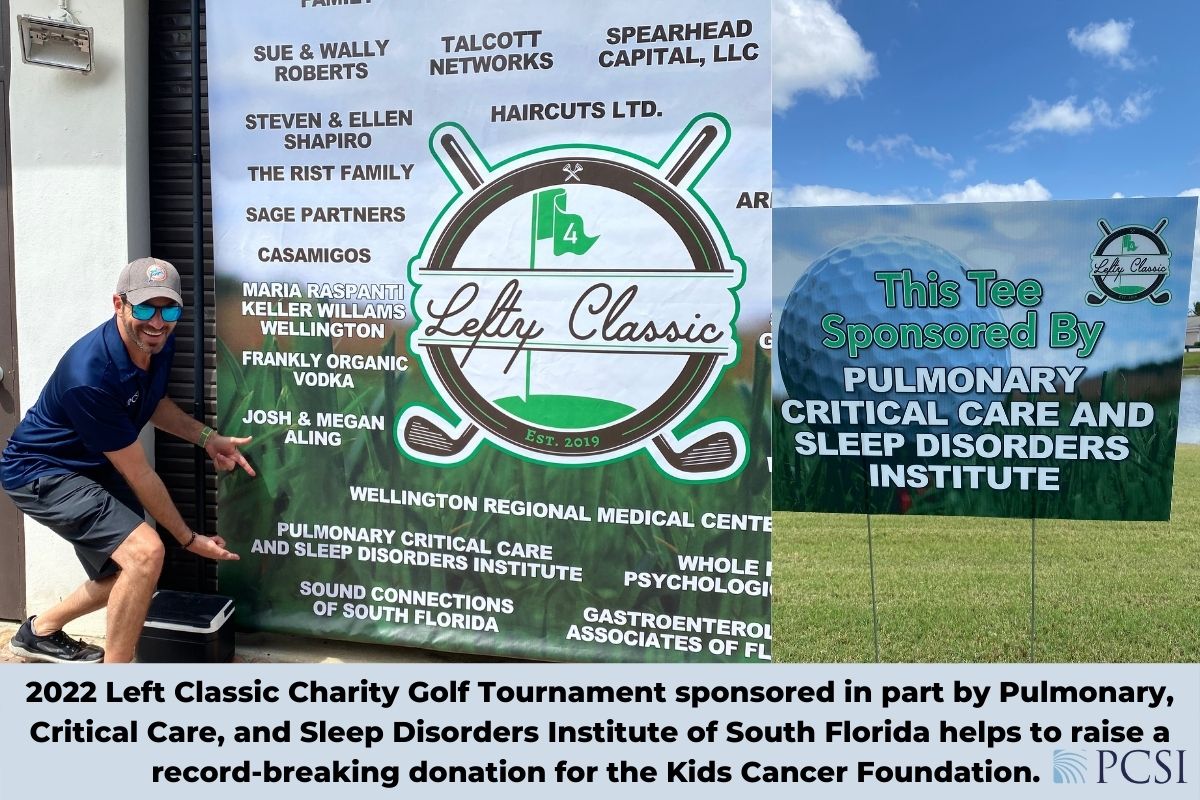 02 May

2022 Left Classic Charity Golf Tournament sponsored in part by Pulmonary, Critical Care, and Sleep Disorders Institute of South Florida helps to raise a record-breaking donation for the Kids Cancer Foundation.

WELLINGTON, FL. – It was a beautiful day filled with excitement and compassion while supporting a great cause at the 2022 Lefty Classic Charity Golf Tournament at the Wanderers Club in Wellington, Florida on April 23rd.

Family, friends, and sponsors came together to celebrate the life of Steve Silverstein, who passed away from lung cancer in 2018, and to raise awareness and funds for the Kids Cancer Foundation of South Florida.

A full field of 96 participants gathered to compete in the 4th round of the Lefty Classic. They started their Saturday off by enjoying the beautiful weather followed by 18 holes of golf. Food and drinks were provided throughout the day as a friendly, yet competitive round of golf took place for a good cause. As the fundraising amount is being finalized, they anticipate that they will exceed last year's $75,000.

"I feel very proud to see the event grow and with that, we continue to surpass our fundraising goals from each prior year," said Dan Silverstein, the son of Steve Silverstein.

Founded in 2019 by Dan and Taryn Silverstein, in honor of Dan's father, Steve Silvertein, The Lefty Classic has continued to grow in popularity and impact by raising funds to support the Kids Cancer Foundation of South Florida's mission of providing hope and support to local children and families battling childhood cancer and/or blood disorders. They seek to accomplish this by providing compassionate, easily accessible, supportive care services.

"The goal for future years is simple: raise as much money as we can for the Kids Cancer Foundation while having a great time with our dear friends and family," stated Dan Silverstein when asked about his long-term goals for the event.

The event was supported by friends and families including The Dobbs Family, Ellen & Steve Shaprio, Sue & Wally Robers, The Dymkowski Family, Brian & Jamie Olson, Ronnie and Susan Pertnoy, Stephanie & Omar Idilby, and the Rist family, as well as several corporate sponsors including Haircuts, Ltd., Spearhead Capital Advisors, Pulmonary, Critical Care and Sleep Disorders of South Florida, Sound Connections of South Florida, Stream Capital Partners, Whole Health Psychological Center, Beebe Armstrong, Gastroenterology Associates of South Florida, Maria Raspanti with Keller Williams Luxury International, Gil Martinez State Farm, Star Liquors, and Frankly Organic Vodka.

The tournament was followed by a silent auction and award ceremony where the winning team, Team Swick, was announced. Team Swick consisted of players Robbie Swick, Adam Dolbow, Kevin Steakin, and Conor Martling.

"I am once again blown away by the love and energy that Dan puts into this event in memory of his late father. Steve would've been so proud of Dan and so happy to know how many families are supported in his honor," exclaimed Taryn Silverstein after another successful event. The Silversteins are already looking forward to the 2023 Lefty Classic and hope to continue to carry on Steve's legacy through gathering with friends, family, and supporters to benefit great causes such as the Kids Cancer Foundation.

For additional information on the event or ways you can get involved in future events, please visit https://www.leftyclassic.com.